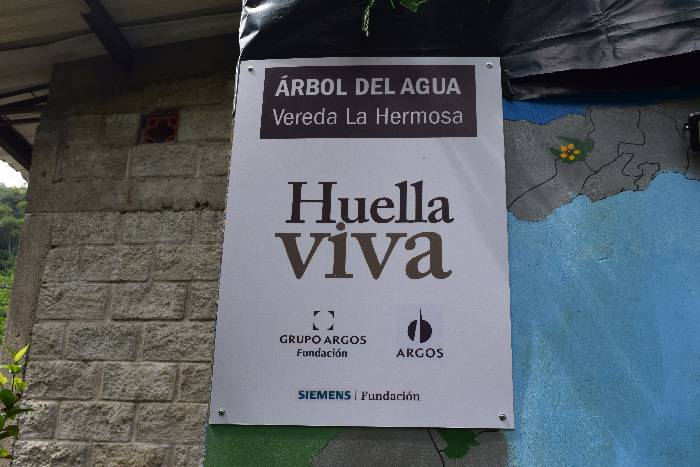 More than 1,000 people in eastern Antioquia now have access to drinking water and complementary energy thanks to an alliance between Fundación Grupo Argos and Fundación Siemens
16 March 2021
 Among the beneficiaries are 500 children from six educational institutions in two villages of Río Claro in Antioquia who will be able to return to classrooms with access to drinking water, a vital and essential resource to comply with the biosafety protocols of the current situation.
Additionally, the Fundación Grupo Argos and Fundación Siemens delivered two Water Trees, structures that make up to 1,500 liters of this resource drinkable and that have solar panels to illuminate public spaces and allow cell phones to be recharged.
With the installation of drinking water filters in six educational institutions in eastern Antioquia, the Grupo Argos and Siemens foundations successfully executed the alliance that they signed and announced in October 2020, which sought to bring this resource to the rural headquarters of the department that does not had access to it.
Within the framework of the alliance, two Water Trees were also built with the communities, structures that make this resource drinkable in large quantities, housing up to 1,500 liters, benefiting about 1,000 people and helping to improve their quality of life. These trees also have an installation of solar panels for the generation of energy for the benefit of the communities, generating a community environment around a solution for access to water and energy. The children contributed by painting these structures and the families and educational communities actively participated in the training of integral water management to take care of it from its sources to its responsible use.
"It is with great emotion that we deliver to the inhabitants of Río Claro, in conjunction with Fundación Siemens, these new drinking water and energy alternatives to contribute vital resources to the well-being of the community. During this year we will continue working for the creation of social value with projects that allow us to promote the transformation of the communities and the contribution to the water security of the territories ".
María Camila Villegas, Operational Director of Fundación Grupo Argos
"We are committed to this alliance between the Fundación Siemens and Fundación Grupo Argos, with the well-being of the communities and we know that in order for them to be sustainable, they need to access innovative solutions that involve technology and its potential to enjoy drinking water, sustainable energy and meeting spaces to make the shared dream of the future come true in their territories ".
Natalia García de Castro, Executive Director of the Siemens Foundation
The union between both foundations seeks to promote alternative solutions for access to water, sanitation and hygiene, in addition to working in an articulated way by the community, mitigating problems such as that experienced in Antioquia, where 64% of the 4,342 educational institutions located in rural areas, does not have access to drinking water.