Grupo Argos Foundation
At Grupo Argos Foundation we work with the purpose of harmonizing the relationship between human beings and nature.
Our purpose 
At Grupo Argos Foundation we work resolutely with the purpose of harmonizing the relationship of human beings with nature to contribute to water security and the development of territories through education, culture and volunteer actions.
In order to promote their voluntary actions of corporate citizenship, the companies of Grupo Empresarial Argos integrated the assets, human talent, experience and management capacities of their businesses to promote Fundación Grupo Argos as one of the vehicles of corporate social responsibility most powerful in Colombia.
1,754

HECTARES BENEFITED

from restoration, conservation and sustainable production processes.

59

NEW CONSERVATION AGREEMENTS

for the protection of basins and biological corridors.

1,098

EMPLOYEES

participated in volunteer activities.

+2,300

YOUNG PEOPLE BENEFITED

from the business alliance for the Employment of Women and Young People.

907,098

TREES PLANTED

with native species for volunteer work.
Sustainable Development Goals
Our work focuses are aimed at supporting the fulfillment of five Sustainable Development Goals.
GOAL 4
Quality education
Goal 4: Ensure inclusive and equitable quality education and promote lifelong learning opportunities for all.
GOAL 6
Clear water and sanitation
Goal 6: Ensure availability and sustainable management of water and sanitation for all.
GOAL 11
Sustainables cities and communities
Goal 11: Make cities and human settlements inclusive, safe, resilient and sustainable.
GOAL 15
Life on land
Goal 15: Protect, restore and promote sustainable use of terrestrial ecosystems, sustainably manage forests, combat desertification, and halt and reverse land degradation and halt biodiversity loss.
GOAL 17
Partnerships for the goals
Goal 17: Strengthen the means of implementation and revitalize the Global Partnership for Sustainable Development.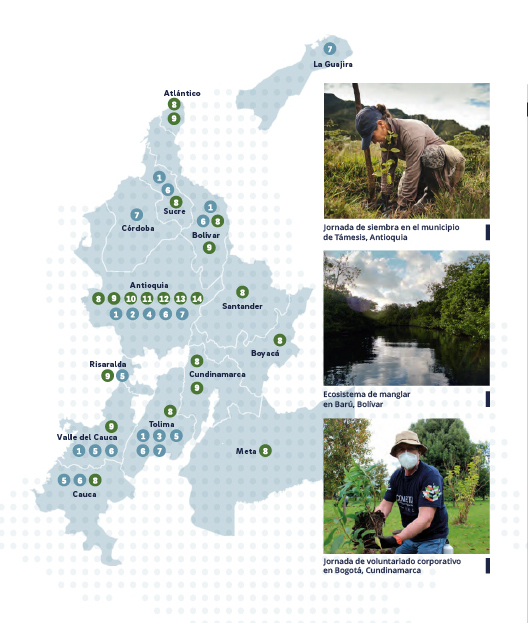 Our work 
Water resource conservation
1. Sembrando futuro

2. Huella Viva – Río Claro

3. Río Saldaña, una cuenca de vida

4. Alianza Cartama Sostenible

5. Conservamos la vida

6. Acceso al agua segura

7. Verde Vivo

Territorial Transformation
8. Becas para el Desarrollo Regional
9. Voluntariado Conecta
10. Alianza Empresarial por el Empleo
11. Emprender Mujer
12. Hogares Saludables
13. Programa Puentes
14. Distrito San Ignacio
We work to contribute to water security in the territories, our strategy starts from the protection of water from the mountains to the sea. We focused our intervention on the Río Claro and Río Cartama basins in Antioquia, Río Saldaña in Tolima and the Canal del Dique in Sucre, achieving the conservation of 3,910 hectares.
How do we do it?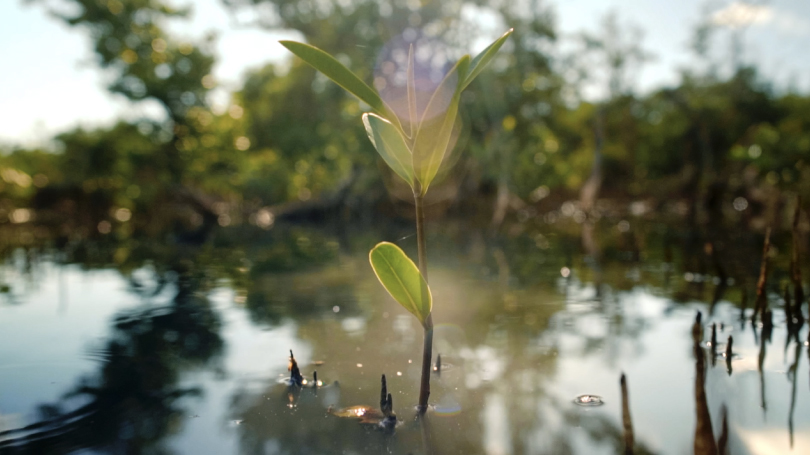 We develop ecological restoration processes with the planting of native species of trees in different ecosystems of the country that present deterioration due to human actions.
We contribute to the sustainable development and quality of life of the communities of the Río Claro basin, through actions of conservation, restoration and sustainable production. The area of ​​influence of this project is between the municipalities of Sonsón, San Francisco, Puerto Triunfo and San Luis in Antioquia, achieving the conservation of 1,239 hectares.
We work for the protection and restoration of the Río Saldaña basin that supplies approximately 46% of the inhabitants of Tolima through conservation and sustainable production strategies, strengthening community capacities to promote the use of alternative solutions for access to water, sanitation and sustainable use of water resources. At this time, we have achieved the conservation of 2,671 hectares.
We contribute to the design, implementation and promotion of actions of conservation, restoration and ecological regeneration under the integral management of water basins, contributing to the improvement of plant covers and ecosystem connectivity in the province of Cartama.
We protect and restore mangrove ecosystems, recognizing their importance for the conservation of biodiversity, the capture of blue carbon and the quality of life of the inhabitants of the Canal del Dique in Sucre. At this time, more than 28 hectares of mangrove have been restored.
We protect the habitat of the Andean bear, considered the guardian of water, working to avoid conflict between the bear and peasant communities, developing actions to take care of their environment through the conservation of the forest area, ecological restoration, the development of projects sustainable production and environmental education processes. To date, thanks to the program, more than 2,500 hectares have been protected through which the bear now roams for freedom.
We lead an environmental education process to create awareness around issues such as: the protection of water resources, good environmental practices and health. Currently, we have 54,393 students benefited throughout the country.
We are committed to the territories where we have a presence, we carry out a dedicated and careful management that allows us to benefit the collective interest and contribute to the solution of the problems that we share as a society.
To do this, we join wills around education, culture and corporate volunteering and contribute to create employment opportunities and promote economic growth.
How do we do it?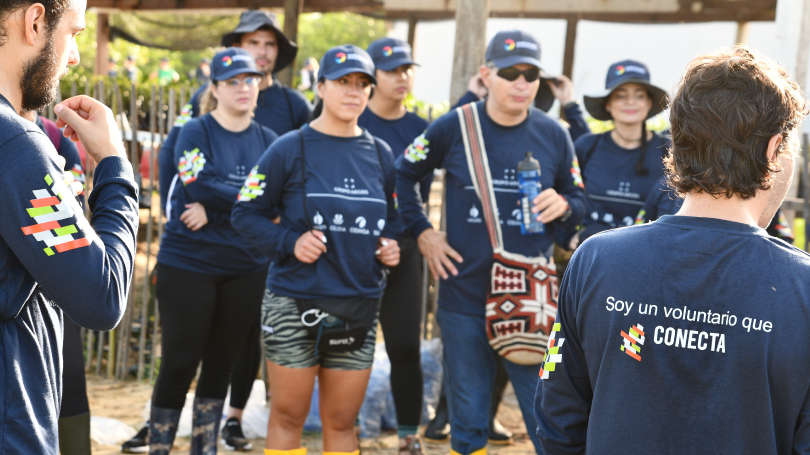 We believe in the power of education as the engine of social transformation with this program we offer access to higher education for young people to more than 174 students, strengthening their leadership skills and sense of belonging to their territories.
We promote the sense of transcendence and solidarity through the mobilization of collaborators in transformative, sustainable and high impact projects. We contribute to the construction of a more empathic and supportive society.
We lead processes to contribute to the generation and strengthening of employment and strategies to promote sustainable social development in rural and urban communities.
We support art, culture and heritage in Medellín. This project seeks to strengthen art and heritage in the area of ​​the city center to reinforce cultural expressions and continue to build a new way of sharing and inhabiting public space.
This campaign emerged during the pandemic to contribute to different causes such as food security for the most vulnerable families, support for primary education for boys and girls, and higher education for young people.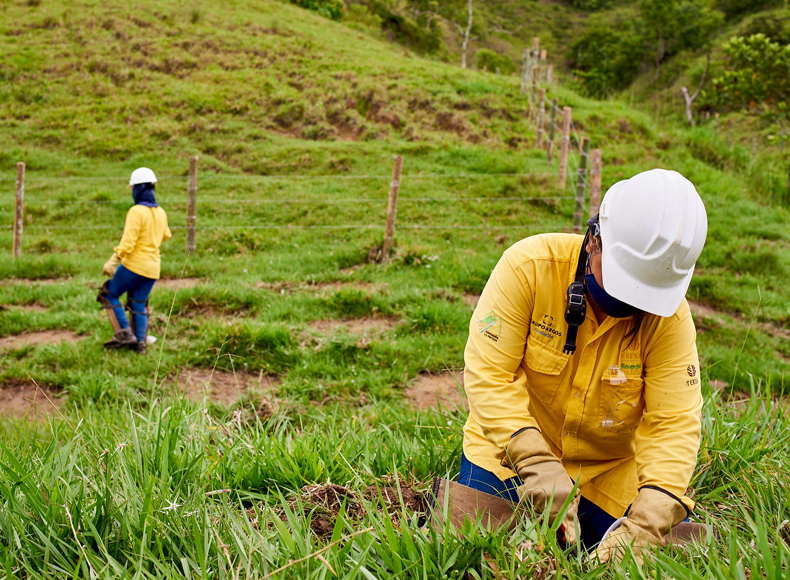 Other initiatives
Tekia
A few years ago, we began the transformation process towards a nature-based solutions company through strategies that allow us to develop voluntary and mandatory compensation projects and provide ecosystem services to the businesses of Grupo Empresarial Argos.
We lead the implementation of the Grupo Argos Foundation's Sembrando Futuro project, whose goal is to reach 10 million trees planted voluntarily in the next five years, and we support Celsia's reforestation initiatives through its ReverdeC program.
Likewise, we deploy initiatives to promote green businesses among the communities and contribute to the strengthening of community nurseries as the main ally in the planting processes.
The support of the Grupo Argos Foundation has allowed us to go from 107 to 153 intensive care units and we hope to grow another 30 more units. We are sure that we will not be inferior to this great challenge that we have to meet for Medellin and all of Colombia. Thank you for allowing us to continue fulfilling our mission to serve and protect life.

Mauricio Tamayo

CEO San Vicente Fundación.

I am very grateful to everyone on the project, because not only have they changed my way of thinking, but they are also teaching me to work on what I have worked on all my life, but as it should be and for the benefit of what we have in our region, so it's very rewarding for me.

Jhoan Bravo

Finca El Consuelo, Valle del Cauca.

San Ignacio is similar to other latitudes in the world where all the groups are one, where all the groups are family, where all the groups have the same vein that fills them and positions them in a brotherhood, and where the people find no just a guild with active and lively people, also a place in the city where you will throb, live, learn and respect art.

Wilson Zapata

Executive Director, Elemental Teather, Medellín.

A la Fundación le quiero expresar mi mayor gratitud por lo incondicionales que han sido en estos pasos tan importantes para mi vida, creo que no me cansaré de darles las gracias por el apoyo. El mayor compromiso que tengo es siempre llevar a todos lados los valores que nos han inculcado y esforzarme cada día más para hacer grandes aportes a mi pueblo, comunidad y país. No me canso de decir mil y mil gracias por contribuir a cumplir mis sueños.

Daniel Porras Serna

Laws Student, Medellín's University.

Gracias a Huella Viva ahora puedo comenzar a hacer lo que yo he querido con mi predio, a cumplir un sueño mientras trabajo por cuidar el bosque, ojalá sean más como yo que puedan salir adelante con ayuda del proyecto.

Iluminada Ospina

Huella Viva Project's Beneficiary.

We are very happy with the delivery of the water filter because it will give us many health benefits, receiving the filter at home is as exciting as when we brought the refrigerator or stove, it will bring us a lot of well-being.

Isidro Pinzón

Vereda San Marcos, Roncesvalle.

The mangrove is life, it is wealth. That is why we have to take care of it, because we eat the fish that are raised in it, from there we get everything, it protects us from the tide, it is a source of life. For these and more reasons we must restore it.

Alejandro Quintero

Community Leader Bocacerrada.

The students feel motivated to participate in these environmental meetings of the Green Live Program and have become aware of the importance of preserving, conserving and caring for natural resources as an important element that is part of the environmental component.

Edgar Ospina

Teacher, IE San Pablo Headquarters, Támesis Municipality.
Learn about our management report
Crecer en Paz Foundation
La Fundación Crecer en Paz es una entidad sin ánimo de lucro creada en 2015 por iniciativa de Grupo Argos con el objetivo de fortalecer el tejido social en la región de los Montes de María, impulsando el desarrollo de los campesinos de El Carmen de Bolívar y de Ovejas. Para ello, recibió una donación de 6.600 hectáreas de tierra productiva y recursos financieros por parte de la Fundación Grupo Argos.
Con esta visión, la Fundación Crecer en Paz puso en marcha un modelo de desarrollo territorial sostenible donde participaron 400 familias campesinas de El Carmen de Bolívar y de Ovejas. Durante el proceso, se conformaron 10 asociaciones, ocho de ellas integradas por 250 familias campesinas sin tierra. Estas asociaciones recibieron más de 5.000 millones de pesos en inversiones productivas como reservorios de agua, sistemas de riego, equipos técnicos, planta empacadora y otros activos que les han permitido consolidar sus proyectos productivos.
En 2023 y en línea con su estrategia, la Fundación Crecer en Paz formalizó la donación de más de 1.200 hectáreas a las ocho asociaciones campesinas, lo que significa que 250 damilias ahora son duelas de las tierras donde desarrollan sus proyectos productivos. Fueron 19 predios avaluados en cerca de COP 7.700 millones de pesos.
En este modelo, las familias campesinas decidieron trabajar de manera asociativa en las tierras. La Fundación les ofreció acompañamiento técnico y social permanente, así como capital semilla. Ocho años después, estas asociaciones se consolidaron, a su propio ritmo. En ellas hay liderazgo de mujeres y la gran mayoría de las asociaciones ha recibido recursos públicos de cofinanciación.
En 2021, el Ministerio de Medio Ambiente y Desarrollo Sostenible, a través de la Unidad de Parques Nacionales declaró 400 hectáreas como Zona de Reserva Natural de la Sociedad Civil. Este es un aporte muy relevante en la conservación del bosque seco tropical, amenazado en esa región del país.
Con este trabajo, la Fundación Crecer en Paz ha contribuido a recuperar el tejido social creando lazos de confianza entre las comunidades a partir de un modelo que consolida la relación entre productores y compradores en condiciones justas. Hoy todos los productos de las asociaciones tienen comercialización asegurada.
A través de cadenas de supermercados o de restaurantes, miles de colombianos pueden disfrutar los productos tradicionales de la región de los Montes de María como miel, fríjol, ñame, batata y hortalizas, productos cultivados por las 400 familias que integran las asociaciones campesinas que apoyó la Fundación Crecer en Paz.
Adicionalmente y con la meta de aportar en la reconstrucción del tejido social en esta zona del país, la Fundación Crecer en Paz realizó la donación a la Agencia Nacional de Tierras de cerca de 1.300 hectáreas que no son objeto de ningún proceso de reclamación o restitución. Así́ mismo, la Fundación Crecer en Paz ha dado cumplimiento inmediato y ágil a los fallos de restitución y ha donado tierras e invertido recursos en proyectos productivos que benefician a las comunidades campesinas de la región.
Let's talk
If you have any questions about the processes that we carry out at Grupo Argos Foundation, you can contact us through the form.