Materiality
At Grupo Argos we play the role of active strategic architect, leading and accompanying the monitoring of the general sustainability model of the Business Group, with a broad vision of trends and risks, and promoting the setting of goals and objectives in our strategic businesses and portfolio investments.
Our Materiality Analysis is the roadmap that reflects Grupo Argos's most important environmental, social and governance (ESG) focal points. It allows us to adapt to changes in our surroundings, market dynamics, and stakeholder expectations.
The prioritization process that allowed us to define our material topics includes five steps:
1

Identification of topics to prioritize

2

Stakeholder identification for consultation

3

Internal and external consultations
Value drivers
When updating our Materiality Analysis, we restated our previous nine material topics as six value drivers.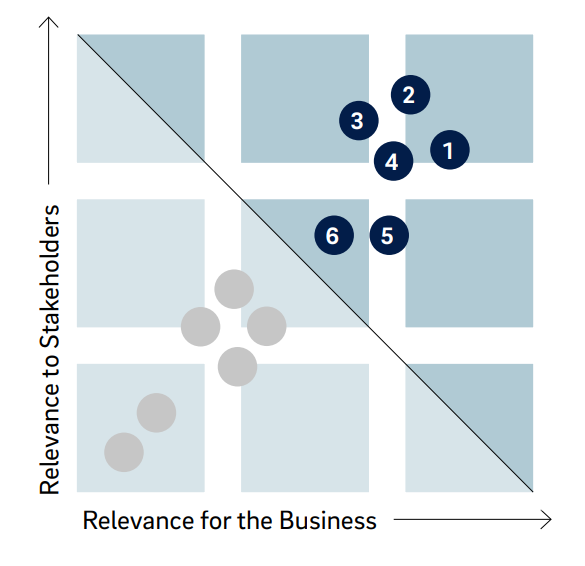 * we will perform a new materiality analysis for Grupo Argos S.A. in 2022 in line with our asset management strategy.
The end result allows visualizing the relevance of each of these drivers, and the way in which we manage them, our progress, and any associated challenges and opportunities.
Empowerment of corporate group strategies based on our expertise, cross-cutting understanding, and long-term vision, as well as our capacity to promote new perspectives and synergies between businesses.
Management of our investment portfolio through adequate resource allocation and an efficient capital structure throughout all the companies in our corporate group.
A system that defines the proper management of the companies in our corporate group, as well as the ethics, behavior, and transparency standards that govern our directors, administrators, and collaborators.
A set of strategies aimed at ensuring conscious investment, the adoption of cutting-edge practices, and responsible operations towards the planet and people in all the corporate group's businesses.
Strengthen the organization's reputation and effectively position it so our stakeholder groups perceive, understand, trust in, and support Grupo Empresarial Argos.
A set of initiatives that seek to attract, develop, and retain the best talent, within the framework of the pillars of transcendence, integrity, inspiration, and commitment that make up the culture of our corporate group.