Stakeholders
At Grupo Argos, we identify and prioritize stakeholders according to their level of dependency and influence on our strategy, as well as ours towards them.
Stakeholders
At Grupo Argos, we identify and prioritize stakeholders according to their level of dependence and influence on our strategy, and on ours towards theirs.
Using different engagement mechanisms and an annual consultation exercise, we gather their opinions on our business activities and communicate the progress of our operations. This ongoing, transparent and differentiated dialogue is basis upon which we build mutual trust that ensures our business's permanence over time. Based on our consultations, we formulate a set of differentiated value promises that seek to respond to stakeholder expectations and translate into value for them.
Make their investment profitable in the long term and make them participants as owners of the purpose, strategy and performance of Grupo Argos and its businesses.
Strengthen the level of commitment of employees, develop their leadership, enhance their inspiration and allow their results to transcend hand in hand with the organization.
Enhance their individual value and as part of the Argos Business Group.
Provide the necessary capacities to promote and strengthen joint investments, within the framework of ethics, good corporate governance and transparency.
Maintain transparent and collaborative relationships with public institutions, in order to contribute to the development of the countries in which we operate.
Actively participate in shared development, understanding the needs of society and supporting processes from internal capacities.
Establish equitable and sustainable business relationships over time, benefiting all parties involved.
Annual survey of relations with interest groups
In response to the challenges of the current situation in terms of communication, we have implemented a system to assess the satisfaction of stakeholders regarding the management of our relationship. This evaluation exercise is anonymous and seeks to strengthen active two-way communication.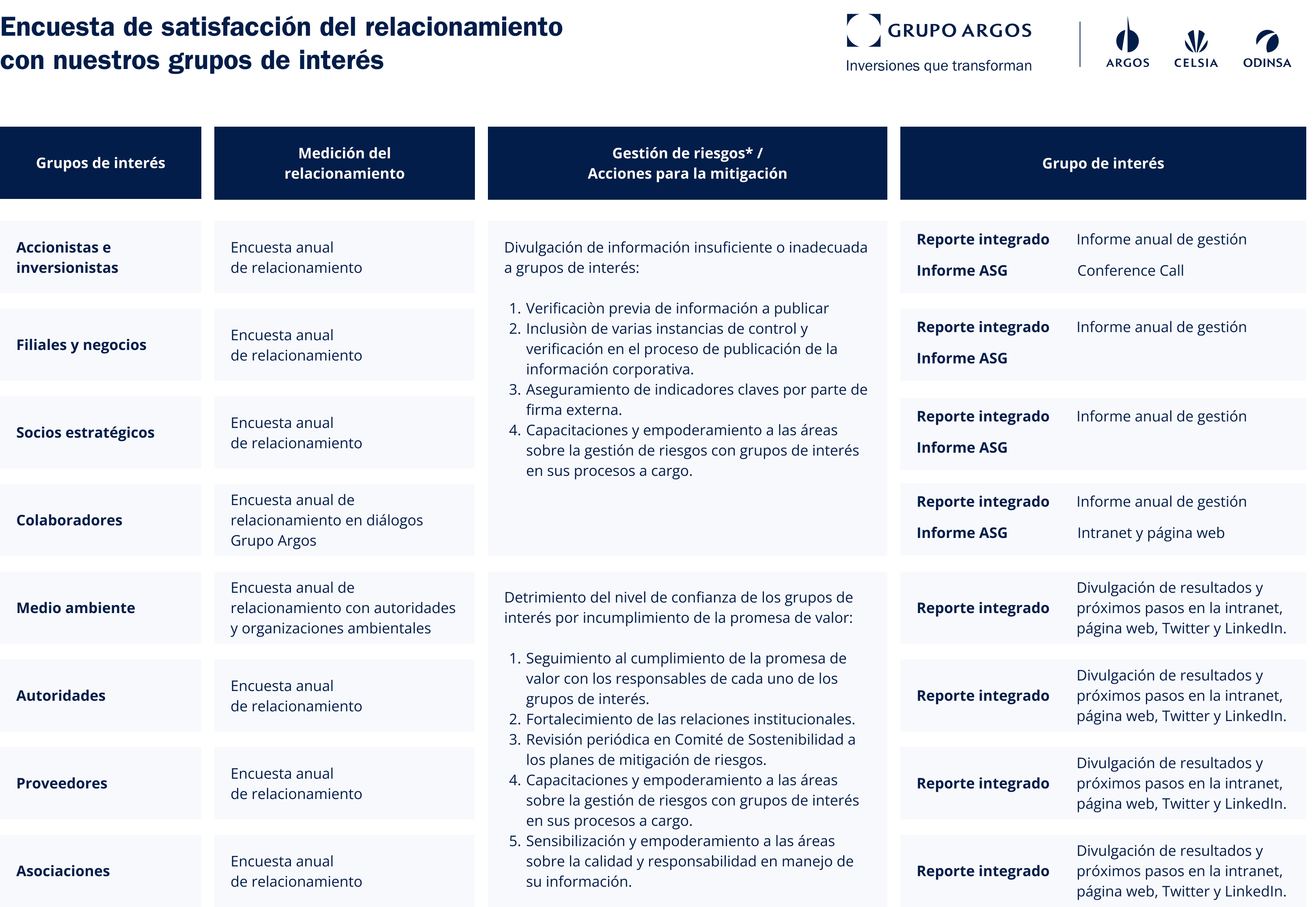 Annual stakeholder engagement survey
In response to the communication-related challenges of the current situation, we implemented a system to evaluate stakeholder satisfaction with how we manage our engagement. This survey is anonymous and aims to strengthen active two-way communications
Answer survey