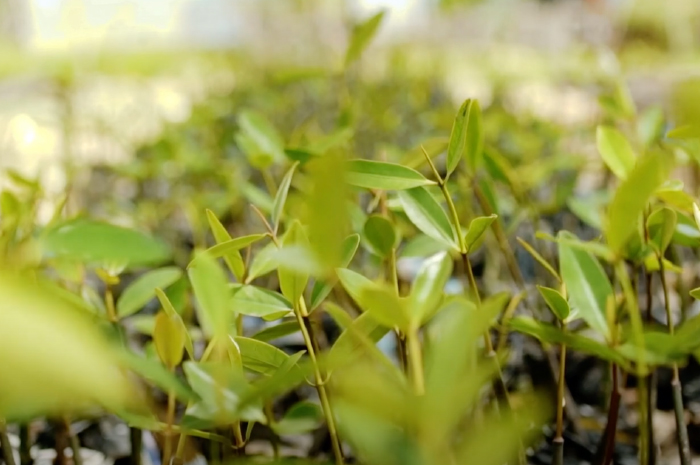 News
With 20,000 mangrove seedlings, the Grupo Argos Foundation, through its Sembrando Futuro program, continues to contribute to the restoration of this ecosystem in the Atlantic
23 June 2022
The planting day was attended by Celsia, through its ReverdeC program, and the Corporación Autónoma Regional del Atlántico, and was held in Ciénaga Mallorquín in the north of Barranquilla.
The sowings were carried out within the framework of the Sembrando Futuro program of the Grupo Argos Foundation and seek to contribute to the recovery of an ecosystem with a relevant role in mitigating the effects of climate change.
Since 2019, the Grupo Argos Foundation has planted more than 290,000 mangrove plants in Sucre and Bolívar and has promoted the construction of 4 community nurseries as an alternative income for 184 families.
With the purpose of strengthening the strategic function of the mangrove ecosystem in the protection of biodiversity, the capture of carbon dioxide and in the quality of life of the inhabitants of the country's coastal areas, the Grupo Argos Foundation advanced the planting of 20,000 red mangrove plants in the Ciénaga de Mallorquín area, north of Barranquilla.
This planting day was possible thanks to the alliance with the Regional Autonomous Corporation of the Atlantic and Celsia, through its ReverdeC program, entities that contributed knowledge and resources for the structuring of this initiative that seeks to contribute to the restoration of nearly six hectares of mangrove
"The mangrove ecosystem is essential for the health of the oceans, climate change mitigation and directly influences the quality of life of fishing populations. These 20,000 seedlings are added to the efforts that we have been making for more than three years in the departments of Sucre, Bolívar and Atlántico."
Maria Camila Villegas – Operational Director of the Grupo Argos Foundation
This project contemplates the linking of local communities through environmental education workshops in which nearly 3,000 students, teachers and community leaders participate. Likewise, it allows communities to obtain additional income by protecting the ecosystem.
About the mangrove ecosystem
Mangrove forests are highly productive ecosystems, eco-transpirators, flood buffers, erosion protectors and refuge areas for fauna. Among the ecosystem functions of mangroves, their enormous capacity to capture and store carbon dioxide (CO2) in the form of organic carbon, which is known as blue carbon, stands out. Ecosystems that capture and store this type of carbon retain in one year the carbon equivalent to almost half of the emissions produced by transport on a global scale.