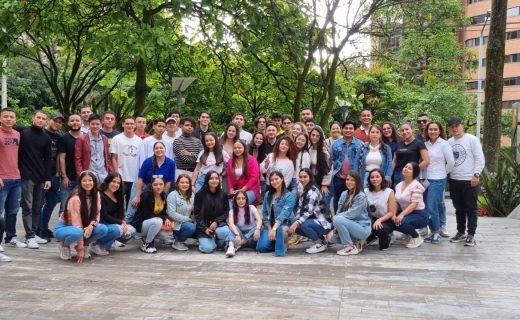 Grupo Argos Foundation
Twenty-seven young individuals from 12 different departments in Colombia will have the chance to pursue a university degree through the scholarship program of the Grupo Argos Foundation.
8 February 2023
The Grupo Argos Foundation will award 27 scholarships to young people from 12 departments of the country, in addition to the 143 scholarship recipients who are currently pursuing their higher education at public and private universities.
In this call, the Grupo Argos Foundation received 995 applications from high school graduates from the departments of Antioquia, Atlántico, Bolívar, Boyacá, Caldas, Córdoba, Cundinamarca, La Guajira, Meta, Risaralda, Santander, Sucre, Tolima and Valle del Cauca.
The Grupo Argos Foundation scholarship program has a retention rate of 94%, which is a benchmark for similar initiatives in Colombia. This program is made possible through investments of over COP 10,000 million made by the Grupo Argos Foundation over the last eight years.
The Grupo Argos Foundation is awarding 27 higher education scholarships to high school graduates from 12 departments in Colombia, in line with its dedication to transforming communities and recognizing the impact of education on creating better prospects for the country's youth. During February, the scholarship recipients will be officially acknowledged, bringing the total number of students receiving support from the Grupo Argos Foundation to 143. This support includes both psychosocial assistance and economic aid, equivalent to 10.5 minimum wages, to cover tuition and living expenses.
The scholarship recipients will form the ninth cohort of the Grupo Argos Foundation's Scholarships for Regional Development program, which has promoted higher education for 290 young people in the best universities in the country since 2015. The program also includes mentoring sessions with employees of the Argos Business Group, who provide support and professional guidance to the scholarship recipients.
"We are proud to be a part of transforming communities through education and to support these 27 young people in their professional growth. Our commitment is to provide valuable opportunities to youth by understanding the needs and realities of the job market and working closely with universities across the country." María Camila Villegas – Executive Director of the Grupo Argos Foundation
About the program:
The Scholarships for Regional Development program by the Grupo Argos Foundation aims to support the education of future professionals in Colombia, acknowledging the contributions of youthful leaders in their communities. This program is geared towards young people from socio-economic strata 1 and 2 residing in the regions where Grupo Argos, Cementos Argos, Celsia, and Odinsa operate. Upon graduation, scholarship recipients are committed to leading community and volunteer initiatives that drive the growth of their respective regions.
The investment in this program amounts to more than COP 10,000 million in the last eight years and has a retention rate of 94%, a significant figure in the national context where around 50% of young people who begin their higher education process drop out of their studies.
Scholarship Testimonials
"I am grateful to the Grupo Argos Foundation for showing me that dreams can come true. I am deeply thankful for the opportunity they gave me and for the ongoing support throughout my journey. Today, I look back with tears in my eyes and a heart filled with pride and joy, because I was able to fulfill my dream of becoming a doctor for my community. I cannot express enough how much this opportunity has changed my life and the lives of those around me. Endless thanks to the Grupo Argos Foundation for helping me reach my goal and becoming a doctor." Dioselin Madrid Herrera, Grupo Argos Foundation Scholar