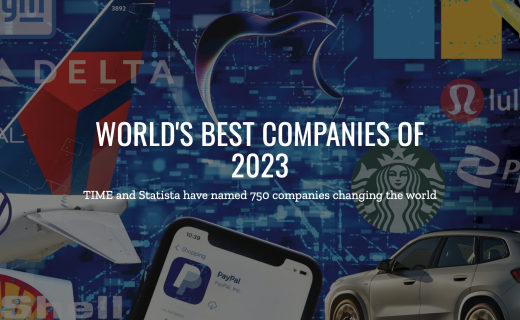 Brand • Corporate
Grupo Argos Among the World's Best Companies According to TIME Magazine and Statista, thanks to its Transformational Capability
19 September 2023
Grupo Argos is the only Colombian company featured in the ranking that includes 750 organizations worldwide.
This recognition highlights companies' ability to create value, the support and satisfaction of their employees, and their leadership in sustainability efforts focused on reducing emissions and increasing female participation on their boards.
According to TIME and Statista, the best companies in the world in 2023 can create things while benefiting their employees, shareholders, and the planet.
In the inaugural edition of this ranking, led by the American magazine TIME and Statista, Grupo Argos distinguished itself as the sole Colombian company among over 750 organizations from 58 countries. The company secured the 595th position in the Best Companies in the World ranking, recognizing the sense of belonging among its 11,500+ employees, financial growth over the past three years, and leadership in implementing projects aimed at mitigating emissions and promoting women's involvement in its board of directors.
To compile this list, the authors collected standout companies from various industries and, with the help of a team of experts, evaluated three dimensions: employee satisfaction, revenue growth, and performance in environmental, social, and corporate governance matters. Grupo Argos' presence in this index reaffirms its leadership in the Americas as a significant player in the infrastructure sector and acknowledges its ability to attract global capital for projects that foster well-being and address global growth challenges.
About the Ranking
For this TIME and Statista ranking, a methodology was established, focusing on three dimensions. In the financial income dimension, companies' performance over the last three years was evaluated, and it was verified that they reported revenues of at least USD 100 million in 2022 and had positive revenue growth from 2020 to 2022. Regarding employee satisfaction, 150,000 surveys were conducted to determine people's perception in terms of reputation, work environment, pay parity, and working conditions. Finally, for the sustainability dimension, organizations' performance was evaluated based on publicly available information regarding carbon emissions intensity and reduction rate, female participation in boards of directors, the existence of a human rights policy, among others.
Other Recent Recognitions Position Grupo Argos as a Leader in the Region
Recently, Jorge Mario Velásquez, President of Grupo Argos, was included among the 500 most influential people in Latin America in Bloomberg Línea's special edition, thanks to his leadership in projects such as the creation of a COP 1.4 trillion airport platform between Odinsa and Macquarie Asset Management, as well as the asset combination business of Cementos Argos and Summit Materials in the United States.
In terms of sustainability, Grupo Argos has been part of the Dow Jones Sustainability Index for 12 consecutive years as a leader in its industry, recognized for its best practices in economic, social, environmental, and corporate governance management.
Furthermore, for the past two years, the company has been listed among the global leaders in gender equality according to Bloomberg's Gender Equity Index.