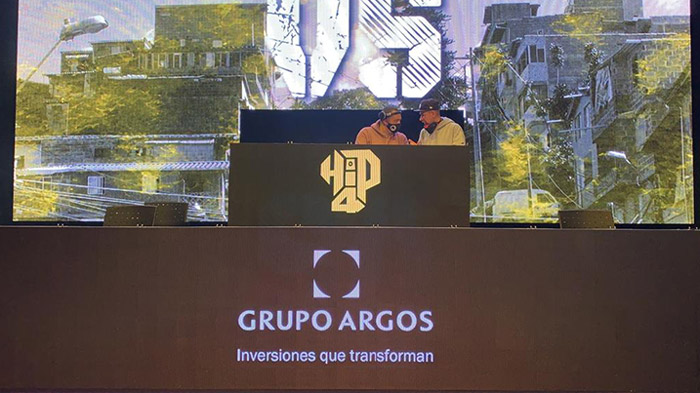 Fourteenth Hip4 Festival will be held in a virtual and interactive format between November 25 and 28 with the support of Grupo Argos
24 November 2020
Hip4 is one of the most important artistic and cultural projection scenarios of the hip hop movement in Colombia and Latin America. This cultural event brings together the main exponents of graffiti, rap, break dancers and deejays of urban culture for 14 years in the Aranjuez neighborhood of Medellín.
Grupo Argos joined the Festival as part of its strategy Creamos Valor Social, which seeks to provide opportunities to different populations and contribute to the economic reactivation of the country through job creation initiatives, strengthening production chains and social impact projects.

From this Wednesday, November 25, will be held in a virtual and interactive way the Hip4 Festival, one of the most important stages of the hip hop movement in Colombia, which seeks to contribute to the projection of local artists on national and international stages, in addition to encouraging young people to build their life project through urban music. This edition will be made through a new web platform that will allow viewers to enjoy free competitions of breakin, emcee (rap), deejay and graffiti. To connect to the event, people can log in for free to www.hip4.co
"Grupo Argos links to this artistic platform at a time when it is important to contribute to the reactivation of the cultural industries that have been affected by the impacts of the pandemic. This participation is part of our commitment to the creation of value in the communities of our country, as well as to make visible different cultural manifestations that we are sure contribute to the transformation and social construction".
Jaime Palacio
Leader of Creamos Valor Social
"This year the Festival will have its first virtual edition but also an offer strengthened and enriched with the lessons of the pandemic. The participation of Grupo Argos and the allies has been fundamental to give continuity to this project of urban culture that is giving new visions to our young people and that has allowed social and aesthetic transformations very important for Medellín and the country".
Henry Arteaga – JKE Hip4 Leader
The participation of Grupo Argos in the Festival adds to other relevant efforts that the organization has made to mitigate the effects of the pandemic in Colombia and that have focused on the care of the life and health of its collaborators, a scheme of relief to its providers, assistance to the most vulnerable families and the strengthening of the country's hospital capacity.