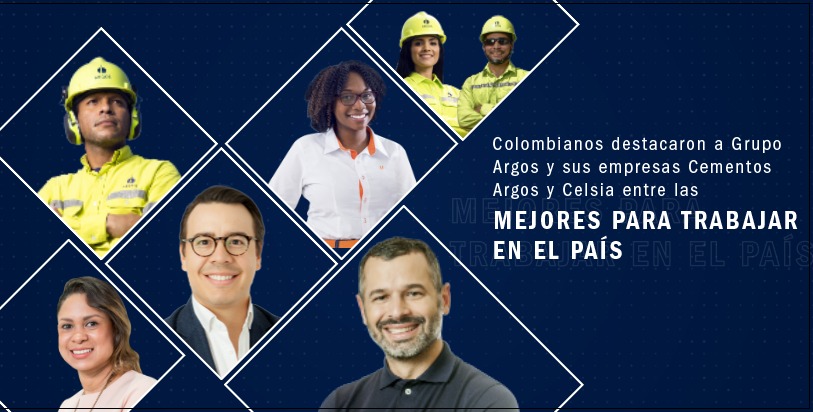 News • Talento
Colombians highlighted Grupo Argos and its companies, Cementos Argos, Celsia and Odinsa, among the best places to work in the country
15 June 2021
Grupo Argos ranked first among the most attractive business conglomerates to work for at Merco Talento and 71st in the general ranking.
Cementos Argos and Celsia consolidated their position in the monitor with outstanding positions for the fifth consecutive year, occupying places 13 and 32, respectively. Odinsa ranked 6th in the Construction and Infrastructure sector ranking.
The results of the monitor reveal the power of the talent management strategy of Grupo Empresarial Argos, the sense of pride and belonging to the team's corporate culture and its value proposition for employees in each of the industries in which it participates .
The results of the Merco Talent ranking for 2021 revealed the consolidation of Grupo Empresarial Argos as the most attractive business conglomerate to work for in Colombia, after evaluating its ability to attract and retain talent among the collaborators of the 100 companies with the best reputation in Colombia, a group of experts in human resources, final year students of various university careers and the general population.
The general monitor placed Grupo Argos in position 71, Cementos Argos in 13 and Celsia in 32, confirming that they are leading companies in their industries and in the country to attract and retain talent and validating the transversal strategy of human management of the organization.
"We celebrate the recognition given to our human talent, to our diverse and inclusive corporate culture, and to all the efforts that Grupo Empresarial Argos makes to promote extraordinary talent, committed, socially conscious, with a sense of transcendence and oriented towards creating value for all our stakeholders ".
Jorge Mario Velasquez
President of Grupo Argos
Merco Talento is one of the most widely used rankings globally to measure the ability of companies to attract and retain talent and assesses the way in which employees are compensated and recognized from three dimensions: job quality, employer brand and internal reputation.