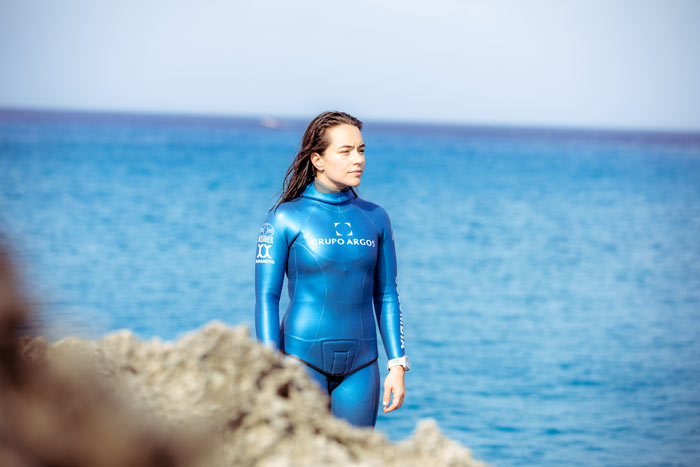 Colombian freediver Sofía Gómez returns to the sea and prepares to compete in Chipre with the support of Grupo Argos
1 July 2021
Sofía Gómez has three world records, the most recent on September 30, 2018 in the constant weight modality with bialets, when she reached a depth of 86 meters with a time of 2.57.
Hand in hand with Grupo Argos, Sofía begins her preparation for the Infinity Depth Games competition in Lárnaca, Chipre. 
The Argos Business Group has invested close to COP 12,5 billion in sports venues, support for Colombian athletes and sponsorship of national, departmental and municipal competitions.
Sofía Gómez Uribe has excelled in sport as one of the most talented freedivers around the world. Her discipline has allowed her to reach 33 national records, 24 South American, 6 Pan American and 3 world records. This year with the support of Grupo Argos, Sofía is preparing to return to the sea after 2 years abroad due to a medical procedure and closures caused by the pandemic.
"At Grupo Empresarial Argos we are convinced of the importance of supporting sport as a transformative and inspiring alternative for millions of young people in the country. From our companies we support various disciplines and we consider it essential to exalt examples of discipline and dedication to achieve the objectives. That is why we are pleased to announce our support for Sofía Gómez, Grupo Argos athlete "
Iván Trujillo – Manager of Institutional Relations and Communications of Grupo Argos
"I am happy to announce that from now on I am a Grupo Argos athlete. This is an organization that I admire and with which I connect for its reforestation and ecological care efforts, its mangrove recovery project on the Colombian Caribbean Coast, the leadership in renewable energies and the vision of contribution to society from sports, education and the transformation of territories "
Sofía Gómez – Freediver – Athlete Grupo Argos
Sofía Gómez joins the group of Grupo Argos´s athletes and from July 1 to August 31 she will be training and getting ready in Dominica in order to prepare for the Infinity Depth Games that will take place from October 7 to 16 in Lárnaca , Chipre and represent Colombia in this world-class competition.
To date, the Business Group has invested close to COP 12,5 billion through its companies Cementos Argos, Celsia and Odinsa, in the construction and support of sports venues, sponsorship of competitions and Colombian athletes. Some of them are the Boulevard Turístico del Atlántico with an investment of USD 56,000, the support of the Paralympic athlete Francisco San Clemente, who carries the gold medal of the 2016 Buenos Aires Argentina Marathon, the sponsorship of the Argos Futsal League and the support to the Calima Sailing School and Recreational Racing in Valle.