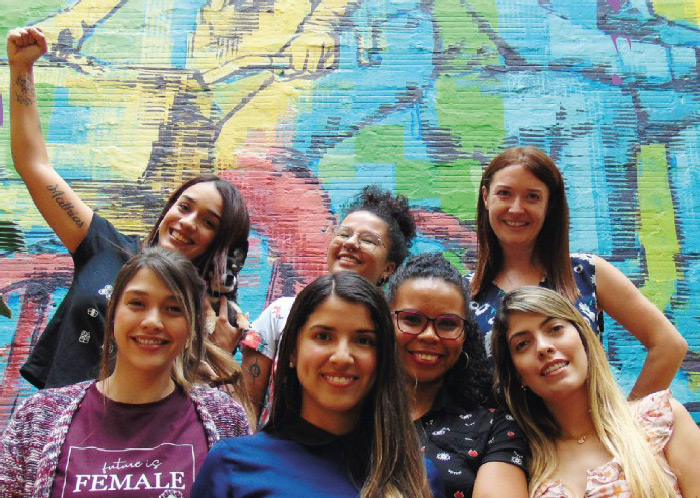 News
50 enterprises led by women in Valle de Aburrá completed the first phase of Emprender Mujer with sales growth, new strategic alliances and more than 30 new jobs
21 October 2021
The entrepreneurs received training and support for eight months in order to strengthen their business models through training in entrepreneurial skills, strategic mentoring and technical advice.
This program also seeks to create and make visible an entrepreneurial ecosystem with a gender focus in the region, facilitating the exchange of knowledge between women entrepreneurs.
Emprender Mujer arises from the commitment of Grupo Argos, Proantioquia, Impact Hub, Bancolombia and Fundación Siemens as an initiative to reduce unemployment among the female population in Valle de Aburrá.
The second cohort of Emprender Mujer will be selected in a new public call that will be open from January 2022
This Wednesday, October 20, was held the closing ceremony of the first phase of Emprender Mujer, the initiative of Grupo Argos, Proantioquia, Impact Hub, Bancolombia, Comfama and Fundación Siemens to promote entrepreneurs from Medellín and Valle de Aburrá in the creation and strengthening of sustainable business models.
In the last eight months, 50 enterprises led by women received strategic and leadership support through 6 skill development sessions, 10 technical training sessions with the purpose of providing them with tools that would allow them to strengthen their enterprises and advice from more than 75 business leaders in finance, talent and strategy.
" Emprender Mujer has had a tremendous impact and it is very comforting to see how it has changed lives and generated opportunities among these entrepreneurial women, generating employment and contributing to the strengthening of the business fabric. Without a doubt, the results are a full expression of how, guided by conscious capitalism, we can generate integral value for society".
Jorge Mario Velásquez – President of Grupo Argos
After these eight months, the ventures generated 31 new jobs, 62 alliances were created between the entrepreneurs, 35 alliances were created with the sponsors, 40 new products were launched and 40% of the ventures reported an increase in their sales thanks to the implementation of new strategies.
"With Emprender Mujer we dream of putting entrepreneurial skills at the service of the entrepreneurial fabric of talented women in the region and promoting their economic autonomy, and with it, acting differentially and affirmatively for an increasing agency capacity of women in all areas of society ".
Laura Gallego – Executive President of Proantioquia
In the call for the first phase of the program, 250 applications were received and after more than 100 interviews, the 50 enterprises led by women with the greatest impact were chosen.
"When we started Emprender Mujer, we didn't see it as a one-time thing, or just by brand. This program will continue to promote more enterprises led by women and in 2022 we will also reach different regions of Antioquia to continue strengthening female leadership in our country ".
Federico Restrepo – Co-founder and Co-Director of Impact Hub Medellín
In 2021, Emprender Mujer won the "Champions of Gender Equity" award that recognizes successful initiatives to mainstream the gender perspective in Latin America and the Caribbean.
"At Bancolombia we are convinced that the autonomy and economic empowerment of women has a multiplying effect that contributes to the growth and development of the entire society. For this reason, we remain committed to programs such as Emprender Mujer, which contribute to economic reactivation with a gender perspective, providing useful tools to women who lead businesses in the city and the country for their personal and professional development ".
Cristina Arrastía – Business Vice President of Bancolombia
In 2022, the program will continue to promote female entrepreneurship in Medellín and will seek to expand its impact reaching the rural areas of the department.
"We believe that innovation and the incorporation of technological tools in women's businesses can lead them to have a greater impact, improve the cost / benefit ratio, be more competitive and make their companies sustainable.
The so-called 4th Industrial Revolution calls on women to actively insert themselves in the processes of change where digitization is one of the keys and where women are committed to participate and lead the transformation processes that this implies in the way of producing, communicating and relate "
Natalia García de Castro – Executive Director of Fundación Siemens