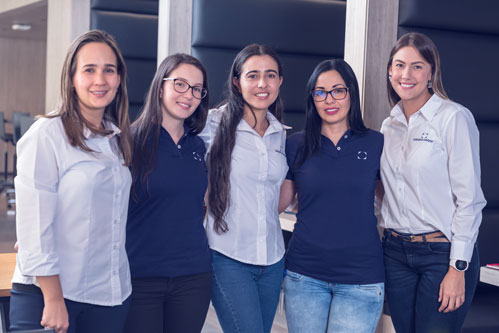 News • Equity and diversity
Grupo Argos recognized as one of the most equitable private companies in Colombia by the PAR Latam 2020 Ranking Equity and diversity
4 November 2020
The company stood out as one of the most equitable private companies in the country thanks to the diversity and inclusion strategy that it has executed in recent years and that has allowed it to intervene in its talent processes, adjust the recruitment and selection mechanisms and implement systems of gender equity management pioneers in the country.
The recognition took place this Wednesday, November 4, at an event led by Aequales, a company that provides tools to close gender gaps in the workplace in Latin America.
The PAR Ranking is a tool to measure the gender equity performance of private and public companies and SMEs, in which more than 900 companies in Colombia, Mexico and Peru participated this year.

Grupo Argos ranked third among the most equitable private companies in Colombia by the PAR Latam 2020 Ranking, a system for assessing performance in gender equality in the workplace of private, public and SME companies, implemented by the consulting firm Aequales in Latin America to recognize the companies with the greatest progress in the management of more equitable, inclusive work spaces and with smaller gender gaps.
"This is a recognition of the efforts of our business group to achieve greater gender equality and that arises from an absolute conviction in the need to advance in the participation of women in leadership positions as a competitive advantage and a condition for build more conscious, empathetic and competitive companies for the benefit of society".
Jorge Mario Velásquez
CEO Grupo Empresarial Argos
During the last three years, the Argos Business Group has increased the participation of women in the organization by five percentage points, going from 18% to 23% and hopes to continue advancing in this purpose. As part of the strategy, the company actively identifies women who are part of its succession matrix for critical positions and accompanies them in their training and development process through female leadership programs, mentoring, coaching and exposure to strategic projects. . The organization has also strengthened its compensation system with objective criteria, tailored benefits, extended maternity leave, lactation rooms, and co-parenting strategies such as flexible hours, flexiworking, and progressive return to work after maternity and paternity leave.
The PAR Ranking evaluates four fundamental areas on a basis of 1,000 possible points to determine the place of each of the participating companies: goal management, organizational culture, structure and talent management.