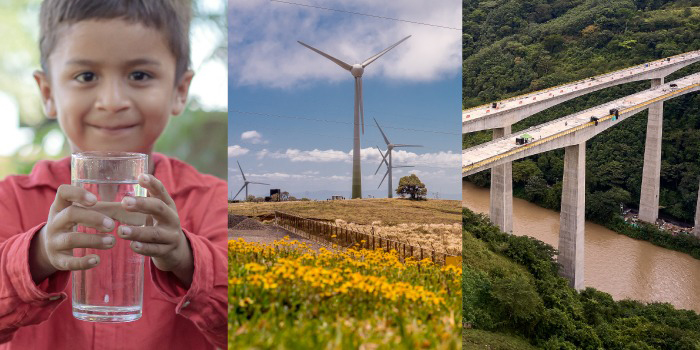 Grupo Argos, Cementos Argos and Celsia recognized again by the Dow Jones Index among the most sustainable companies in the world
13 November 2020
This year Grupo Argos was highlighted in the Global Index, the Emerging Markets Index and the Integrated Latin American Market (MILA). The holding held second place in its industry.
Cementos Argos ranked third in the construction materials industry.
Celsia ranked third in the electricity industry for the Latin American Integrated Market (MILA)- Pacific Alliance and 12th among the most sustainable electricity companies globally.
Grupo Argos companies were recognized by the Dow Jones Sustainability Index as global leaders in their industries, according to the report published by S&P Global's SAM. In this edition of the Index, Grupo Argos and Cementos Argos consolidated for the eighth time as members of the Dow Jones Global Sustainability Index, standing out among companies with best practices in economic, environmental and social matters.
"In the Argos Business Group we welcome this result that demonstrates the commitment to the generation of shared value of our 14,000 employees, who with their talent and dedication seek to positively transform the lives of millions of people acting under the principles of conscious investment, responsible operation and development cutting edge practices in all our businesses".
Jorge Mario Velásquez
President of Grupo Argos
For more than 20 years, the Dow Jones Sustainability Index has evaluated the leading companies in 61 industries and 27 countries based on sustainability criteria, giving a distinction to those that perform outstanding and comprehensive management of their businesses. Since its inception, it has helped to consolidate a strategic vision around sustainable development, becoming a benchmark for global markets and investors. This year more than 3,500 companies were invited to participate, of which only 318 were selected as members of the global DJSI.
Outstanding management issues of the Argos Business Group
Grupo Argos: the company ranked second in the world in its industry. Performance indicators, social and environmental reporting, climate change strategy, practices and institutional linkage capacity were highlighted, water-related risk and tax management, and prioritisation of the most relevant issues as a company.
Cementos Argos: due to the responsible practices applied, obtained the highest possible rating in variables such as: sustainable construction, environmental reporting, biodiversity, climate change strategy, water resource management, social reporting, corporate citizenship and philanthropy, materiality, risk and crisis management, and tax strategy.
Celsia: the company was recognized for its leadership in the development of renewable energies and obtained outstanding scores in innovation, risk and crisis management, environmental and social reporting, climate change risks and strategy.
Benefits of being on the Dow Jones Sustainability Index
Being included strengthens the trust of stakeholders in the management developed by companies. Given its rigour, measurement becomes an important tool for reporting, measuring and updating trends.
This index helps investors to assess the quality of management, the performance potential for the future of companies, as well as to identify investment opportunities that generate long-term sustainable value.
It represents a seal of guarantee for consumers, who are increasingly demanding and demanding sustainable products and services.