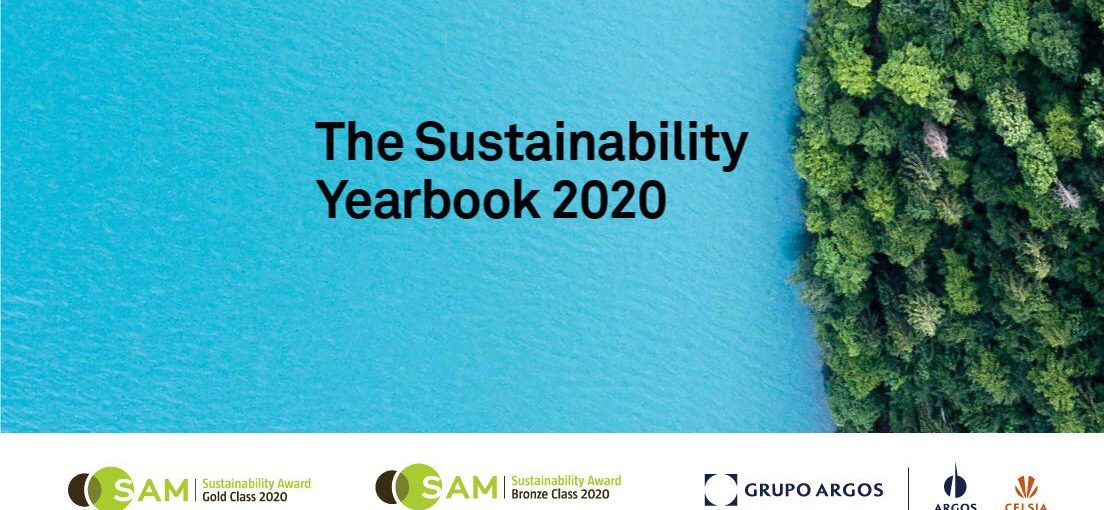 Sustainability
Gold for Grupo Argos and Cementos Argos, and bronze for Celsia, in the RobecoSAM and S&P Global Sustainability Yearbook
30 January 2020
•The Yearbook evaluates the sustainability performance of more than 4,700 companies worldwide and recognizes those that demonstrate best practices.
• Grupo Argos and Cementos Argos were included in the Yearbook for the seventh consecutive year, and for Celsia it is the fourth appearance in the publication.
• Grupo Argos and Cementos Argos are part of the Dow Jones Global Sustainability Indices, Emerging Markets and the Latin American Integrated Market, MILA, of which Celsia is also part.
Grupo Argos and two of its businesses, Cementos Argos and Celsia, received the highest distinctions in the RobecoSAM and S&P Global Sustainability Yearbook, which ratifies them as global leaders for their economic, environmental and social performance. Grupo Argos and Cementos Argos received the gold seal and Celsia the bronze seal, in recognition of outstanding management, transparent, comprehensive and focused on creating value in the long term.
"This is a recognition of the committed work of the more than 14,000 employees of the Argos Business Group, who every day carry out a disciplined exercise of conscious investment, responsible operation and that drive our determined commitment to generate development and well-being, through cutting-edge practices . This is an achievement that fills us with pride and motivation, but which, above all, reinforces our purpose to create value and positively transform society through responsible business exercise. " Jorge Mario Velasquez, President of Grupo Argos
The Yearbook evaluated more than 4,700 companies from 61 industries, including 11 Colombians, three of them from the Argos Business Group. This publication is designed so that international investors can analyze the value generation capacity of the companies and it is carried out independently by RobecoSam and S&P Global.
Global leaders in the Dow Jones Sustainability Index
Grupo Argos, Cementos Argos and Celsia have established themselves as global leaders in the Dow Jones sustainability index in recent years. In the last measurement Grupo Argos ranked first, as the most sustainable company in the world in its sector; Cementos Argos ranked second and Celsia stood out as the second in the electric industry for MILA and the tenth among the most sustainable power companies worldwide.
Dow Jones sustainability indices offer insight into investment risks and opportunities, thus seeking to build trust and value for long-term shareholders.
Listen to the testimony of Cristina Arias, Sustainability Manager of Grupo Argos by clicking here